Korrika + camera = afternoon in France
The Korrika is a bi-annual relay held in the Basque Country in support of the Basque language, euskera. For two weeks, rain or shine, runners carry a carved wooden stick (carved with what, I have no idea), the Ikurriña (Basque flag), and a banner with each year's slogan. The race goes on 24 hours a day, and the course is different each year, traversing through as many cities and towns as...
"Charleston's The Post and Courier proclaimed in 1952, "An..."
– via Laura T. Jones
The Other Meats
Dip yer spoon in the gut bucket. We've been studying and cooking an awful lot of offal lately, and I've become obsessed. So much of cows, pigs, and other animals ends up going to waste, when really, there's very little that isn't edible. While I do tend to prefer good old standard meat, there's really something nice about making something tasty and healthy - and...
A terrific, Offal, pretty-good, yet *very shitty*...
Yesterday in its entirety was a one-of-a-kind experience.  Let me give you a re-cap: 1. I got up yesterday morning and went for a (slow, struggling, why-am-I-here?) run around the coast.  Beautiful, misty, sun rising, boats below…it was lovely.  And apparently everyone who takes their dog for a walk in the wee hours believes themselves to be above the pick-up-the-dog-shit rule. Thx. 2. I...
Homeward Bound: The Incredible Journey (1993)
Mom told the dogs I'm coming home tomorrow. Gauge hid his elation behind a mask of bored indifference. Scout was just a little bit confused, as he hadn't realized I'd been gone since last Christmas. And Chance got this excited:
When life gives you a bag of freshly-killed...
Fall in the rural lands of south Georgia/northern Basque Country essentially means one thing:  hunting season.  Restaurants here - the good ones, at least - flush out their menus with plenty of ducks, venison, doves and quail, boar, and a few delectable but prohibido treats (these latter ones are usually just offered to the regulars).  Gone are the light and ephemeral summer dishes, and in march...
How to have the most *charming* day ever in San...
-To start: wake up just minutes before you need to leave the house.  Bolt a cup of coffee, do some quick recipe review before going to class. -Spend four and a half hours in a practicals class at your culinary school.  Make several jellies and preserves (the current main topic—love!), amasar and bake your first-ever loaf of ciabatta bread from a 48-hour starter, roast both domestic and wild...
A Four-fires Meat Party
(Yes, this was two months ago, but forgive, please.) When it's the end of the school term and August is blazingly, sunburning-ly hot, there's really nothing better than gathering together twenty-five cooking students with their instructors and heading out to the countryside to grill some meat. With a field and trees, a picnic table and grills, and drinks and meat a-plently, we...
Bizkaiko kostaldean, or: a seaside that will steal...
Sorry Gipuzkoa, I sure do love you, but the coast of Bizkaia has won me over sure as shootin'. A friend and I took a mini-roadtrip from Mutriku to Mundaka and beyond, stopping every little while to wander and admire.  We had her car, a map and a cell phone, tentative plans to stay in a rural B&B, and a two-day case of the serious giggles.  Marta and I - two girls from the sunny south of...
Les Pommes de Terre: Apples of the earth, or...
Not terribly long ago, I spent two and a half months peeling potatoes. Okay, okay; I didn't spend every minute of that time only peeling potatoes.  I spent three hours, from morning until lunchtime five days a week scrubbing, peeling, rinsing, slicing, julienning, boiling, mashing, puréeing, frying, scooping marbled-sized balls, and forming son-of-a-bitch-fragile bird-nests out of...
"Yes, um, the answer would be, um, Wedding...
One might say that I've become somewhat of an expert in the field of Basque nuptials this spring season, and sure as shootin, it's the truth.  Back in my last year or so living in Athens, I attended weddings aplenty, usually of people from within the same larger group of friends, and all tending towards the same theme of rustic Southern charm, each one more adorable and precious than...
1 tag
1 tag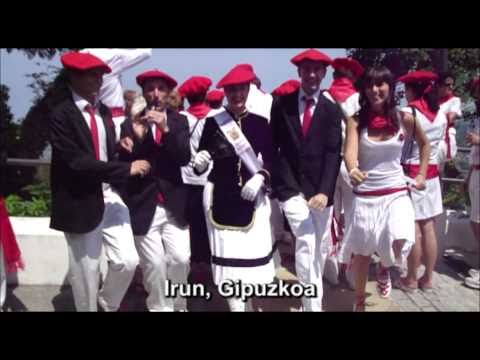 Mariscada and then some.
Sunday lunch with Iñaki's family.  Rainy-then sunny-then rainy day in July…typical.  We sat on the glass-walled porch and watched the port and pueblo down below.  We drank very, very much Albariño, and we ate.  Oh, did we ever eat. We ate jamón de bellota (the best…), broiled scallops, tiny clams, and prawns.  We ate langoustines and grilled monkfish and creamy fish soup.  We...
France, you had me at pamplemousse.
"So far I've always kept my diet secret, but now I might as well tell everyone what it is. Lots of grapefruit throughout the day and plenty of virile young men at night." (Angie Dickinson) It all started innocently enough, with my friend Lucía asking if I wanted to go to France with her.  She had to run some errands there, going to the bank and buying a particular kind of yogurt...